Innlegget er kopiert fra Trond Skjelten sitt innlegg på SAK sin facebook side.
"Da er interiøret på plass i var 1960 Lloyd Alexsander TS"
Fra Wikipedia:
Lloyd Alexander TS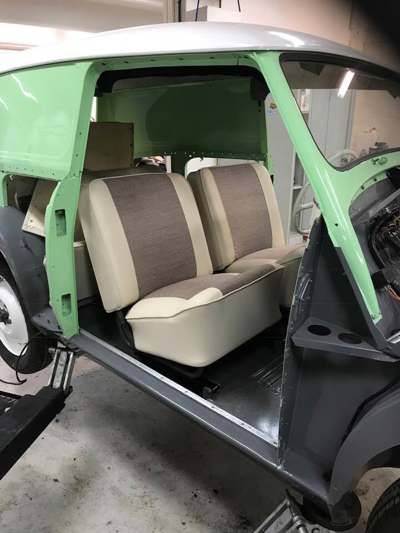 The Lloyd Alexander TS which appeared in 1958 was easy to differentiate from the basic Alexander thanks to its "semi-elliptical" (more curved edges) front grille. The TS was fitted with an all-synchromesh four-speed gear box. Thanks to the larger carburetor and raised compression ratio – in this application of 7.2:1 – the manufacturer was able to claim a top speed for the Alexander TS of 107 km/h (68 mph) and the time to 100 km/h from a standing start was reduced to 56 seconds.[2]
The Alexander TS also came with a completely redesigned back axle, which significantly improved the car's handling, and anticipated the rear-suspension configuration on the Lloyd Arabella (which appeared in Lloyd showrooms the next year).[4] The rear axle was attached using semi-trailing arms[5] (generally identified in contemporary sources simply as "trailing arms") with "progressively acting" coil springs.[6] The TS also incorporated detailed enhancements such as the windscreen washer system and, new for 1957, asymmetrically dipping headlight beams.